I found this story on the 'net and thought the Monarch Butterfly enthusiasts out there, would enjoy it.
Unashamedly uplifted from
The Press of Atlantic City
, USA.
Each year, the first few weeks of fall in South Jersey feature an invasion from the north — monarch butterflies, descending on the shore en masse as they migrate south to Mexico.
But this year, the invasion has become a deluge, with the most butterflies seen in years in parks, refuges and even in towns. Visitors and residents are crowding shore areas to see.
Read the rest of the story
HERE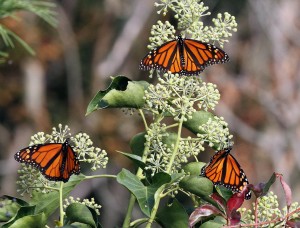 The picture shows Monarch butterflies clustering in a garden at Cape May Point. It's the height of the monarch butterfly migration season in Southern Jersey and large numbers of the butterflies can be seen around the Cape May Point area.
Visit the
Monarch Monitoring Project website
and here's a link to their blog
http://capemaymonarchs.blogspot.com